This year I participated in both the Secret Santa organised by Cath and Ian over at
The Blog with No Name
and the Santa Clause, run by Chris at
Wargamer's Odds and Ends.
Many thanks to all of them for administrating these initiatives, I'm sure all the participants enjoyed them immensely - I certainly did!
The Secret Santa bought me a large package containing Grand Manner's Pilgrim Cross (which was on my Wish List) plus the bonus of a medieval beehive, which shows my personal secret santa had certainly done their research. Whoever you are, Sir or Madam, thank you very much!
My Santa Clause had investigated my Blog and came up with an appropriate gift: Three painted Italian Battleships to go with my Hallmark purchases from earlier this year. These delightful little ships should give me the impetus to get on with my naval project, although I will struggle to match the excellent paintwork!
LRDeal - Lion Rampant The Army Deal 1
Army Deal for Lion Rampant, the new Medieval skirmish game from Osprey Wargames. It is made up from the Crusader Medieval 13th Century MCF figures.
1 Mounted Knight Unit (6 Figures)
1 Mounted Knight Unit (6 figures)
1 Foot Knight Unit (6 figures)
1 Crossbow Unit (12 figures)
1 Bidower Unit (6 figures)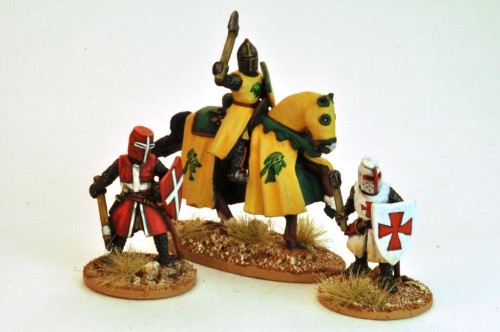 which was topped up with some Fireforge Mounted Sergeants, plus two tickets for next year's Salute, so it looks like 2015 should be busy!
I hope you all have been as fortunate as I have, and received some lovely shiny goodness.
Until next time................